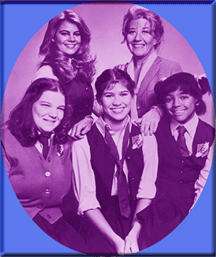 Hello and welcome to my Facts Of Life fan site! The Facts Of Life is one of my all time favorite TV sitcoms and this site is my tribute to it!
Huge News for April 2011 --- All of the girls and Charlotte Rae will be getting together for the first time in over 20 years. They will appear together on the TV Land Awards, which is taping on April 10th, 2011. The actual show will air April 17th on TV Land. The girls will appear together to accept the Pop Culture Award. The award is presented to TV shows who have had a significant impact on modern pop culture. No word on who will present the award. Past recipients of the Pop Culture award include Star Trek, Survivor, Soul Train, Dallas, The Brady Bunch, The Golden Girls, Sid and Marty Krofft and Charlie's Angels.
SEASON 5 DVD NOW AVAILABLE --- On November 2, 2010, the Facts of Life Season 5 will be released!
Click here to pre-order Facts of Life Season 5
Season 5 is probably most known for being the start of Edna's Edibles, and when Blair and Jo start attending Langley College as freshmen. Mrs. G quits Eastland to start her own bake shop. So all the girls live together above Edna's Edibles instead of at Eastland.


SEASON 4 was released on MAY 4th 2010!!!
The DVD includes all of the 24 episodes from season 4, plus the 2 hour special, "The Facts of Life Goes to Paris", as well as a trivia game.
Click here to pre-order season 4 now!
Mindy Cohn News - Mindy will receive a makeover on the season premiere of "What Not To Wear", which is scheduled to air on TLC on Friday, October 29th 2010 at 9PM Eastern Time.
Mindy also recently made headlines when she admitted to being the Godmother to Brad Pitt and Angelina Jolie's children. She showed off a diamond ring that the couple gave her and said she visits with them often, which was certainly a surprising and out of the blue revelation.
Check out the NEWS section for updates on all the girls!